CATERING BULLEEN – IQ CATERING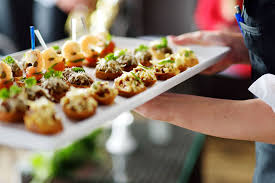 As the leading catering service company  in Melbourne, we have been delivering a full suite of catering services across Bulleen and its nearby surroundings. From intimate BBQs to large wedding gatherings, we cater to all types of occasions, and delicious menus that ultimately meet all your expectations.
Our Range of Catering Services Include
Wedding Catering Bulleen
As the trusted wedding catering service in Melbourne, we provide you with a list of creative menus that amp up your day. Our team ensures that your wedding menu is created especially for your occasion. We host the menu tasting to ensure your wedding meal perfectly matches your expectations.
Corporate Catering Bulleen
At IQ Catering, we believe that delicious foods mark the success of any corporate event. Our corporate catering offers wonderful food experience for your events, and your clients and partners would appreciate and remember it.
Home Catering Bulleen
Through our home catering service, you can sit and relish the taste of home-cooked foods and spend more time with your guests. From a simple sandwich menu to dietary foods, we would provide a tasty and healthy food option for your guests.
BBQ Catering Bulleen
Hosting an intimate party? What better way can you treat your besties than a plate of hot BBQs and a glass wine. We offer BBQ catering services from private parties to large gatherings.
Buffet Catering Bulleen
When you are throwing a party, you want to ensure that all your guests are happy with the choice of foods. With our buffet catering, you can enthrall your guests with a variety of hot and spicy meals, beverages, drinks, and bite-sized meals, allowing them to explore the culinary adventures.
Finger Food Catering Bulleen
Throwing an informal party? Take advantage of our finger food catering and make more space for your party entertainment. We specialise in finger food catering and can be tailored to your requirements and impress your taste buds.
Be it any occasion, let our chefs create the magic for you, for unique flavours, you can call and talk to our team on 03 9455 0818 today.