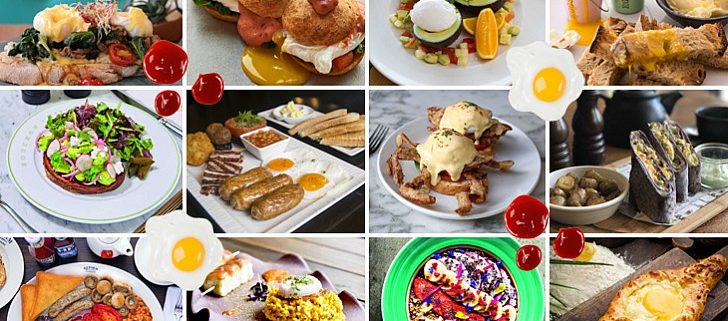 The way food is being perceived has evolved over the time. What started as a strange flavoured leaf is now the most sought after topping on your garlic bread today. All these efforts of innovation and discovery in the food industry aims at making the food more delicious and nutritional.
However, most of us get carried away by the daily activities at work and skip the breakfast or compromise on the breakfast we eat. Remember that your body has been without any food intake for the last 6-8 hours. In general, kids and teens who eat breakfast have more energy, do better in school, and eat healthier throughout the day. Catering Melbourne is offering the best delicious breakfast at affordable prices at Weddings & Special Events. Without breakfast, people can get irritable, restless, and tired. So make time for breakfast — for you and your kids!
Below is a list of 5 most sought after breakfast options at IQ Catering

Like a New York morning, not much can beat the smell, taste and texture of a freshly toasted bagel. For breakfast, or even for lunch, salmon, capers and cream cheese, is a classic filling, sure to tantalise the taste buds and safe your hunger at the same time.
A delicious bite sized snack, full up with exciting flavours: smooth, creamy scrambled eggs, with just a hint of cracked pepper; one of the most recognisable tastes of Greece, salty feta cheese; baby spinach, a splash of green, chock full of iron, for texture and colour.
What can beat a warm golden croissant for breakfast? Only other items on this list, otherwise it can't be beat. This particular variant, filled with grandmother style gourmet ham, a creamy Swiss or maybe a bitey cheddar cheese and freshest of fresh tomato. Delicious.
Nature's best breakfast, presented here as Bircher muesli, natural pot set yogurt, and pure unadulterated Tasmanian honey. You can literally taste the culture!
Apparently, the French know how to do a good breakfast, because here is another, albeit with a more local twist. Crunchy granola, layered with slices of fresh kiwi fruit and smooth parfait, topped with fresh blueberries.
IQ Catering Melbourne are ready to serve you breakfast for Weddings, Special Events & Venues. You can call us @039455 0818 for any queries.
https://www.iqcatering.com.au/wp-content/uploads/2017/10/cocktailpkg.jpg
437
728
admin
https://www.iqcatering.com.au/wp-content/uploads/2016/07/Logo.png
admin
2017-10-05 09:34:28
2020-07-21 03:57:29
5 Most Sought After Breakfast Options